The Nuna Revv is a totally revolutionary convertible car seat! The seat can rotate 360 degrees safely and effortlessly so that getting your baby in and out of the car is a breeze.
No twisting yourself to reach your little one - just turn the seat sideways, and it's so easy! And when it's time to switch from rear-facing to forward-facing you'll be so happy you chose the Nuna Revv, because it literally takes just seconds!
This car seat has oodles of exciting safety features, including EPP energy-absorbing foam, the Aeroflex side impact protection system, a no rethread 5-point harness, and a strong steel frame.
There are also magnetic buckle holders that make buckling kids in safe and easy.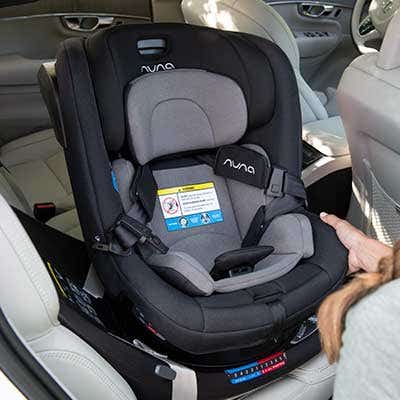 You can customize the head support as you see fit with the 10 position head support, and there are also 10 recline positions (5 in rear mode, and 5 in forward-facing mode). 
This car seat can be used from day one, and has a maximum weight capacity of 40 pounds! It comes with a removable support wedge & Merino wool infant head & body inserts. It can be used rear-facing from 5-40 pounds, and as forward-facing from 25-40 pounds.
The Nuna Revv is available in the following 2 colors: Caviar & Hazelwood.
Q: What's the max adjustable height of the head support on the Nuna Revv?
A: The Nuna Revv convertible car seat has an adjustable head support with 10 position options. It goes up to 43 inches.