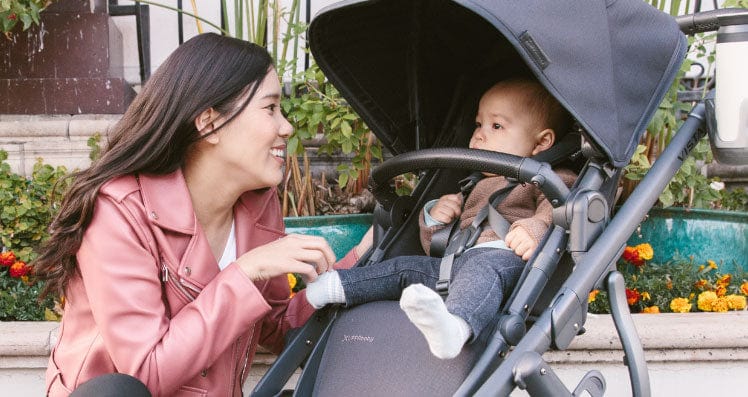 About Us
Our promise
We are here to give you the clarity, confidence, and comfort that you need when making such an important and significant purchase. It's about creating a relationship with a team of friends who are soon to become a part of your family.
Product selection
We strive to provide customers with the largest choice of products on the internet. The depth and breadth of our product offerings extend not just to the baby strollers themselves, but to the accessories as well.
Product knowledge
At a time when online retailers seldom know the products they carry, we want to be the exception. We know our products and stay up to speed with the latest product innovations and always offer the latest products first. We also have a large quantity of product information available on our site to allow you to choose the best baby stroller, baby jogger, or car seat.
Customer experience
We have a knowledgeable staff of baby stroller experts ready to answer any questions that you may have. Our goal is to provide you (and your child) with the perfect stroller.
Meet The Pish Posh Team
Charlie
As our fearless CEO, Charlie has over 10 years of experience in e-commerce operations. Originally from Toronto, his uncanny aptitude for sensing the next big bestsellers in the baby gear world is matched only by his passion for his family and his newfound hobby of smoking briskets.
Shira
Though she is currently our HR Director, Shira has been with the PishPoshBaby team from the very beginning, and so can pretty much identify any piece of baby gear we've sold in the last decade blindfolded. As someone with a burning passion for environmental and animal causes, she hosts monthly meetings of the Protection of New Jersey Rare Waterfowl Society. Shira loves to bake, spin and spend quality time with  her four children.
Hennie
With an uncommon obsession for baby gear, it's fitting that Hennie has been at the helm of PishPosh Baby's operations for over 10 years, and was responsible for bringing some of our bestselling products to the US. She still gets excited about product launches, and boasts a rather impressive collection of strollers. When she's not working, she loves to going on adventures with her family (three girls and a baby boy!), and has a special talent for finding the best breakfast places while traveling.
Esti
Esti is PishPosh Baby's in-house graphic designer/social media director/jingle composer with over 25 years of artistic experience. She enjoys cooking, learning ASL, and is the current record holder for solving a local escape room with her kids.
Rikki
Rikki was a customer before she came aboard the PishPosh Baby team after having shopped for a Doona for her baby girl. She is our staff SEO Analyst, and writes for our blog about the latest in the baby gear world. Rikki finds time to read, play tennis, and go for long walks with her family.
Lindsey
Working remotely from sunny Georgia, Lindsey recently resumed her place on our team to create social media content. She has lots of experience with baby gear as the proud mama to three kids (see our previous YouTube videos!) and can pretty much fold any stroller blindfolded. She's married to her high school sweetheart (aww!) and is a certified martial arts instructor. 
Amy
Hailing from California, Amy recently celebrated five years on the PishPosh Baby team. When she is away from work, Amy is currently working on her first novel. She is also an avid plant enthusiast, who gives away cuttings that were propagated from her prized marble pothos.
Brenda
Brenda has been on the PishPosh Baby team for over two years. With a flair for color, she freelances as a makeup artist outside work hours. She is also a seasoned home cook, and has been known to bring the fruits of her labor to work, much to the delight of her coworkers.
Chloe
Chloe joined the PishPosh Baby team over three years ago. She is a farmer's market fanatic, and can often be found carefully selecting produce to cook for her family (two girls and a boy). She also loves to engage in some old-fashioned retail therapy.
Mia
Mia, joined us last year from California, and is one of our CPST specialists. She has traveled extensively, and discovered that her favorite vacation spot so far is the Maldives.
Kelly
Kelly is one of the PishPosh Baby team's most recent additions, and has recently been CPST certified. She grew up in NJ with six sisters, collects vintage designer scarves, and loves to laugh.
Molly
If you've ever called our customer service department, chances are you've spoken with the ever-patient Molly. She has been with PishPosh Baby for over six years and is CPST certified. As a mom to four daughters and a new baby boy, Molly is an ardent baker, finds satisfaction in organizing cabinets, and takes great pride in having painted her house by herself.
Esther
Esther, our latest addition to the web team, has artistic experience that goes beyond the scope of site maintenance. When she's not keeping things running smoothly here, this former voice coach is burning the midnight oil editing a memoir about her grandmother's life. An avid traveler, she is probably planning the next RV adventure with her family.